http://traffic.libsyn.com/animanicast/160_Tom_Ruegger_Talks_About_Episodes_16-19.mp3
Each week, Joey, Nathan and Kelly revisit an episode of Animaniacs, Tiny Toon Adventures, Pinky and the Brain, or Freakazoid! Today its part two of their discussion with Tom Ruegger for Animaniacs' 26th Anniversary. Tom talks about episodes 16-19 with the hosts and shares his thoughts about each one.

Episodes 16-19
Today's episode features a discussion of some fantastic episodes of Animaniacs. Highlights include "Chalkboard Bungle," "Hurray for Slappy," "Roll Over Beethoven," "Pavlov's Mice," and "Meatballs or Consequences."
While the episodes all feature some fantastic writing, some segments have questionable animation. The hosts talk to Tom about segments like "Chalkboard Bungle" which is a hilarious cartoon, but looks pretty bad.
The discussion of episode 20 is postponed until a future date. An episode as monumental as "Hearts of Twilight" deserves to have a deep dive. Hopefully with its writer, Paul Rugg!
A Sketch from Tom
Whenever Tom is on the podcast you will probably hear him sketching while talking. Today's sketch features a familiar megalomaniacal mouse you're probably familiar with.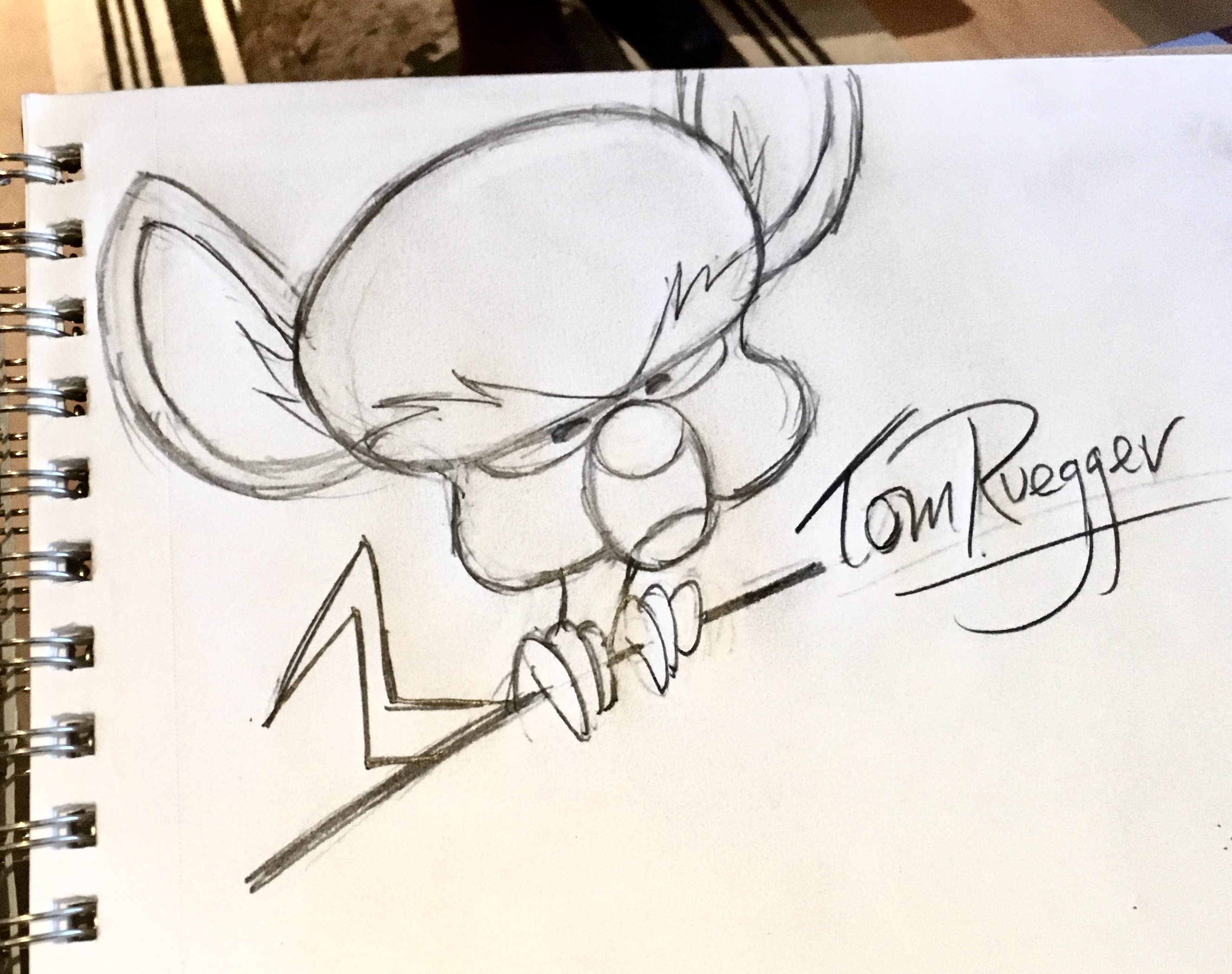 Join the Party!
Head on over to Discord.Animanicast.com today to join our RetroZap discussion group. You'll get to chat with the hosts of this show as well as the hosts of other RetroZap podcasts!
Different Ways to Support Our Show
If you'd like to support out show there's lots of ways to do it! First of all, you could go onto Apple Podcasts and leave us a five-star positive review.
Also, don't forget to tell a friend about the show! Your retweets and post shares help others find us.
By going to Amazon.Animanicast.com you can find some of the newest Animaniacs merchandise including clothing, toys, videos, and even books written by some of the original writers of the show. Get some great stuff and help support our show! You can even use Amazon.Animanicast.com as your portal to Amazon on your next shopping trip and you'll still be supporting our show with any purchase you make.
You could also purchase some hand prepared decals from Joey at Decals.Animanicast.com
Interested in getting some Animanicast MERCHANDISE? It's in stock now at TeePublic! Get yours at Teepublic.Animanicast.com
Cover art by @jedishua Intro Music performed by Kontra5t
Has anyone seen our announcer? If found, please do not contact us.